BrewDog Millionaire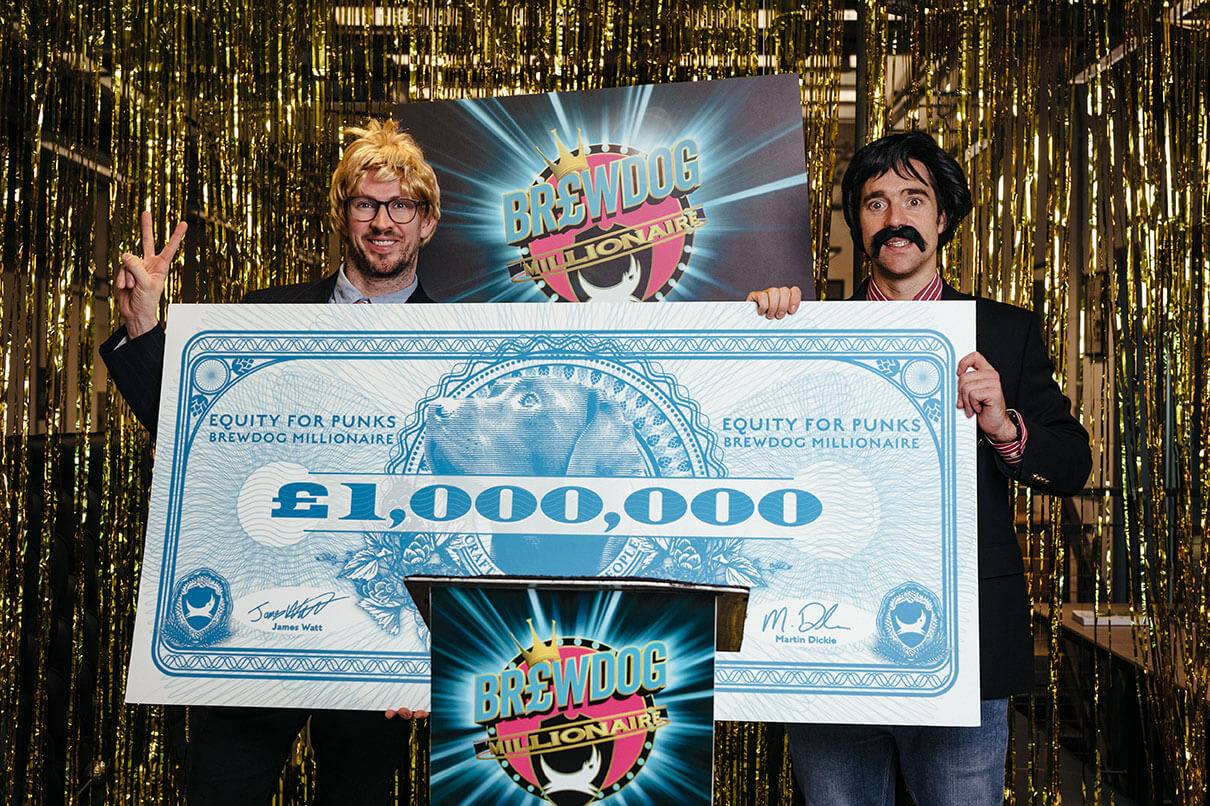 FEELING LUCKY, PUNK?
Over the past 10 years, we have broken record after record as we recruited almost 100,000 craft beer crusaders to our community through crowdfunding.
A decade later, as part of our latest round of funding, we're offering something huge. And truly unprecedented.
Introducing the BrewDog Millionaire.
Every single person who invests any amount, small or big, in this round of equity for punks has the chance to win £1,000,000 of shares in BrewDog plc.
Just answer the question at the bottom of the application form on this page when you invest (don't worry, it's beery!), and check the box to be in with a chance of scooping £1 million in shares from one of the UK's fastest growing businesses.
T&Cs
ENTRY INTO THIS COMPETITION IS FREE TO ENTER FOR ANYONE WHO INVESTS IN OUR BREWDOG PLC'S LATEST EQUITY FOR PUNKS CROWDFUNDING RAISE.
ALL ENTRANTS MUST ANSWER THE QUESTION AT THE BOTTOM OF THE APPLICATION ON WWW.EQUITYFORPUNKS.COM TO ENTER THE COMPETITION.
A WINNER WILL BE SELECTED AT RANDOM FROM ALL ENTRANTS WHO ANSWER THE QUESTION CORRECTLY.
IF YOU INVEST MULTIPLE TIMES IN THIS RAISE, YOUR FIRST SUBMISSION WILL BE TAKEN AS YOUR FINAL ANSWER.
A WINNER WILL BE SELECTED ONLY ONCE THIS ROUND OF EQUITY FOR PUNKS HAS CLOSED.
BY SUBMITTING AN APPLICATION TO EQUITY FOR PUNKS, YOU ARE CONSENTING TO BREWDOG NOTIFYING YOU IF YOU HAVE BEEN SELECTED AS THE COMPETITION WINNER.